For Windows users looking to start screen sharing sessions, we offer two options:
Download the mikogo-starter.exe file and install Mikogo on your computer. This is the installation version.
Download and run the mikogo-host.exe file. This is the portable version of Mikogo.
The only difference between the two options is that the portable version involves no installations. Mikogo portable is the latest software from Mikogo with all the same features included.
If you don't want to install Mikogo on your computer, please download and run the portable version instead:
You can download the portable version to your computer and run it from your desktop or any folder of your choice. Alternatively you can download it to a USB flash drive.
Download Mikogo portable to your desktop or USB drive. Double click on the 
icon, Mikogo will start, and the software window will instantly appear. You can then start an online meeting as normal and access all its features as you normally would.
Note that by downloading the portable software to your USB drive you can then run the software and start sessions from your USB drive. This means there is no need to save or download Mikogo to your computer and you can transport your Mikogo software on your USB drive and start meetings from other computers.
Can I join screen sharing sessions with the portable version?
Yes, you can start and join sessions from the portable version. The software looks the exact same and you will find the "Join Session" drawer located in its familiar place.
Do I need to create a Mikogo account?
Yes. In order to start a Mikogo session as an organizer, you need a Mikogo account. This is the case whether you use the portable version or installation version. Create your free account here.
If you already have a Mikogo account, enter your details in the portable software under "Account Information".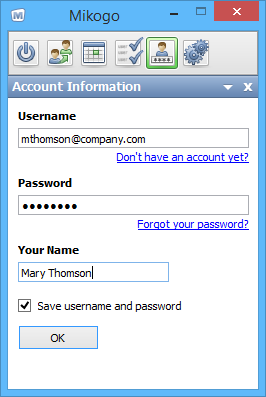 By checking "Save username and password", your account details will remain in the portable version. Therefore if you schedule and save sessions in your portable version, those will be saved in your account and accessible from any other computer where you use Mikogo.