With the latest version of Mikogo, you can record your screen and VoIP audio track together, then play back recordings with our Session Player.
Recording a Session
After launching a Mikogo session, start recording any time by clicking the
button, then select a location to save your recording. The default location is \ Documents \ Mikogo \ records.
A red dot in the recording symbol
indicates that you are recording the session. You can stop recording by clicking the recording icon
or by ending your session.
Recordings are saved in the Mikogo audit compliant proprietary mik format. You can replay a recorded session with the Mikogo Session Player:
Please note:
Your session will only be recorded if at least one participant has joined your session.
Teleconference calls are not recorded.
Playing and Viewing a Recording
Navigate to your Saved Recording Location folder. If you're not sure where this is, check the Mikogo settings panel > Saved Recording Location.
Right-click the recorded file and select "Open with".
Browse for "Session Player" on your computer. (Make sure you download it first from above.)
Check the box "Use this application for all .mik files".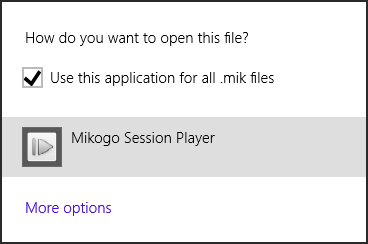 The session player will then open your recording. When you play a new recording for the first time, you'll be asked to create an index.
The index allows you to jump forward and playback any part of the recording. You can decide for each recording file whether you need to index the file or not.
Mikogo Session Player Features


Place your mouse cursor in the lower part of the session player window to access the control menu. During playback, the control menu is automatically hidden to maximize your view of the recording. Move your cursor back and the control menu will reappear.
The following functions are available from the control menu:



Open a new .mik recording file from your computer



Stop playback and return to the beginning


Start or resume playback


Pause playback



Adjust the playback speed, from 1/2 speed up to 20 x faster


Skip forward or back a few seconds


Zoom in/out

View playback in full screen
Can I send my recordings to my participants?
Yes. Participants can replay your recorded sessions with the free Session Player, available above. A Mikogo account is not required to playback recorded sessions.